The Undoing of Cyber Financial Crime
Bridging the Gap

Between Theory and Policy
Between Research and Practice
Between Public and Private
Katelyn Wan Fei Ma is a Ph.D. Candidate (ABD Level) researching cybercrime in the Graduate Program of Science and Technology Studies at York University, and a contract teaching faculty member at Wilfrid Laurier University where she teaches topical courses related to cybercriminology. Katelyn also works for TD Bank's North American Fraud Operations as a Manager of Strategic Initiatives, working primarily as a lead in corporate strategic planning and transformational initiatives.

Katelyn's current research focuses on cyber financial crime assemblage and how users and misusers shape technologies and policies. She is interested in how data analytics and artificial intelligence improve cybercrime management practices, and how financial institutions respond to cybercriminal activities at both product design and institutional policy levels. Katelyn's research strives to increase transparency and efficiency in managing cyber financial crime in Canada, and she hopes her work can contribute to cybercrime management strategies that will help build and rebuild consumer trust and confidence.
Articles and Commentaries
Katelyn Wan Fei Ma has published in a number of leading journals and periodicals.
As a young researcher, Katelyn has gained a name as a leading voice in the area.
Training Anti-Fraud Professionals and Managing Anti-Fraud Operations: Challenges and Opportunities
As financial transactions move online, financial crimes also transition to cyberspace. The technological intricacies, social implications, and economic challenges implicit in cybercrime are pertinent concerns for the digital era. While the financial sector relies heavily on anti-fraud professionals to investigate and intervene in cyber fraud, operational complexities and training obstacles persist. Katelyn Wan Fei Ma highlights three common challenges to the training of professionals and management of anti-fraud operations and offers potential solutions: establishing a comprehensive, regularly updated fraud typology; strategic management of fraud victimization profiles; and an interdisciplinary approach to fraud data analysis.
Covid-19 and Cyber Fraud: Emerging Threats During the Pandemic
The emergence of the novel coronavirus (COVID-19) has threatened physical and mental health, and changed the behaviour and decision-making processes of individuals, organisations, and institutions worldwide. As many services move online due to the pandemic, COVID-19-themed cyber fraud is also growing. This article explores cyber fraud victimization and cyber security threats during COVID-19 using psychological and traditional criminological theories. It also provides a COVID-19-themed cyber fraud taxonomy using empirical evidence from institutional and agency reports. Through organizing COVID-19-themed cyber fraud into four different categorizations, we aim to offer classification insights to researchers and industry professionals so that stakeholders can effectively manage emerging cyber fraud risks in our current pandemic.
Artificial Unintelligence: How Computers Misunderstand the World
Siri, Amazon, Netflix, Uber, Tesla, Airbnb – as technologies have enabled greater conveniences for consumers, artificial intelligence (AI) has become ingrained in the fabric of our daily lives. AI is instrumental in systems of engineering, finance, education, marketing, media, and medicine. Machine learning, as a popular form of AI, now mines data and effectively predicts outcomes. Training data can be used to engage in supervised learning, unsupervised learning, or reinforcement learning processes, which can help existing algorithms improve programed and automated tasks, and consequently better serve the end-users with the preferred and intended responses. But should we be purely optimistic about the power of AI? In Artificial unintelligence: How computers misunderstand the world, Meredith Broussard questions this assumption. Although algorithms can calculate desired results and answer the questions we ask with a high degree of accuracy, AI does not always get things right.
Snapshots, Highlights, and Experiences.
Harvard Kennedy School GRiSTS Presentation
Katelyn Ma presents on Harvard Kennedy School's Graduate Research in STS Annual Conference: Technoscience in Crisis Times: Automating Trust and Distrust in the Field of Cybercrime
Peer Review for Nature Publishing Group
Katelyn Ma peer reviews for Humanities and Social Sciences Communications on Cybercrime topics
Katelyn Ma joins Wilfrid Laurier University as a Lecturer (Department of Criminology - Faculty of Human and Social Sciences). Teaching topics including the definitions of cybercrime, internet history, classical criminology and cybercrime, contemporary criminology and cybercrime, national and global legal responses to cybercrime, offences against computer data and systems (hacking and hacking culture), content-related offences (online pornography and child sexual assault materials), copyright infringement, digital theft, decentralization, web 3.0, cryptocurrencies and NFTs, cyber terrorism, cyber harassment, cyber forensics, cybercrime investigations and future of cybercrime.
Leading Digital Culture, Finance and Ecological Sustainability Think Tank
Katelyn Ma is the Junior Fellow acting as a Think Tank Programme Lead for the Digital Culture, Finance and Ecological Sustainability Think Tank. Supporting United Nation's Sustainable Development Goals Partnership Platform by promoting digital sustainability.
York University: STS Seminar Series
York University's Science and Technology Studies (STS) Departmental Seminar Series continues on Feb. 8 at 12:30 p.m., featuring STS graduate student Katelyn Ma. The talk is titled, "COVID-19 and cyber fraud: emerging threats during the pandemic."
Singapore: Building Societal Resilience to Scams Official eBook
Singapore's National Crime Prevention Council (NCPC) highlights Katelyn Ma's research on COVID-19 and cyber fraud.
Council of Europe: Budapest Convention on Cybercrime
Katelyn Ma presents on Council of Europe's Octopus Conference 2021 -- 20th Anniversary of Budapest Convention on Cybercrime -- on the topic of "Participatory Governance: Co-Creating Cyber Fraud Management Knowledge".
​
Harvard University: Science and Technology Studies (STS) PhD Summer School
Katelyn Ma is accepted to Harvard University's STS PhD Summer School certificate program in 2021, along with 25 other distinct PhD students from all over the world.
The Crime Report: Cyberfraud Soars During Pandemic: 'New Wine in Old Bottles'
The Crime Repot features Katelyn Ma's research Cyberfraud Soars During Pandemic: 'New Wine in Old Bottles'
The American Society of Criminology: Division of Cybercrime
Katelyn Ma and Dr. Kyung-Shick Choi Elected to Liaisons to the Asian Society of Criminology
MIT Media Lab: Pandemic Reponse CoLab Challenge
Katelyn Ma contributes to The Post COVID19 City 2021 Challenge by MIT Media Lab - Pandemic Reponse CoLab with the proposal "The Privacy Clinic: Protecting Your Information Rights to the City"
Society for Social Studies of Science (4S): STS Futures Symposium
Katelyn Ma participates in the roundtable discussion as a panelist to explore the temporalities scripted into and performed through knowledge infrastructures in the context of cyber financial crime.
Center for Cybercrime Investigation & Cybersecurity: Advisory Board
Along with other global academics, practitioners and law enforcement agency members with extensive expertise of cybersecurity intelligence and cybercrime, Katelyn Ma joins the Advisory Board in Boston in 2018
International Journal of Cybersecurity Intelligence and Cybercrime: Editorial Board Member
International Journal of Cybersecurity Intelligence and Cybercrime invited Katelyn Ma to serve on the Editorial Board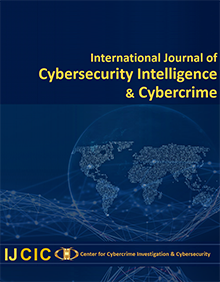 218 Bethune College
York University
4700 Keele Street
Toronto, Ontario, Canada
M3J 1P3